When you visit a new destination, you need to do more than see that top tourist sights in the area. To really know that city or region, travelers need to experience it, from its roots to its culture. While each city or region has its own personality, visitors can explore and experience local things to do in any travel destination with these tips.

This post may contain affiliate links. If you click through and buy, TravelingInHeels will get a small commission. Thank you for your support!
How to Find FUN Local Things to Do in Any Travel Destination
Memories are created when we learn new things. Yet visual memories are not enough to keep something treasured for the rest of your life. Revisit those visuals any time by reviewing the photos you've taken or even just look online. Bottom line: Experiencing the travel destination creates an authentic experience that will change you.
Done right, every place you visit should change you in little ways. Exploring and experiencing each travel destination, whether exotic in far-flung countries or in your own backyard, should expand your world view and solidify your likes and dislikes.
Mostly, these experiences should help you learn more about who you are — and these can also include local things to do with kids. Learn, experience, and live loudly by creating memories with these tips on how to find local things to do in any travel destination.
Go to a Museum
If you want to learn about a place, then go to a museum, and not just the biggest museums that host antiquities from around the world. Art museums, small niche museums, and local museums alike all have value. Or choose historic landmarks, such as castles or forts, historic hotels, national or state parks. No matter where you go, you will learn about something new and really begin to delve into the local culture.
Attend an Event
When you visit a new destination, attend a local event. Be sure to look in advance or during a ticket sale to see what is available. The event might be a concert, religious ceremony, small local cultural ceremony where you don't understand a word the locals are saying, or perhaps a culinary event allowing you to experience the local food. Finding these local things to do and unique events will offer a different pace to your trip.
You'll either do something you love or experience something new, but either way, this will be the highlight of your trip.
Splurge on a Great Meal
Experiences are felt through the five senses. That's why you should save up enough in your budget to splurge on at least one incredible meal while you are visiting. Try to choose a place that is unique to the local with only this one location in the world, and that location is where you are that night.
You don't have to go to a Michelin star establishment, but you do need to go where the food is said to be divine in order to experience the local cuisine.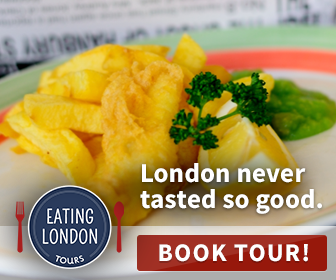 I'd also recommend a local food tour, and my favorite experience was in London with Eating Europe, which offers food tours all over Europe.
Our London Twilight Soho Food tour, not only allowed us to taste the local food and sip the local adult beverages, but the guide also walked us through the Soho district, regaling us with the history of Soho.
Go to a Local Market
Local markets that are present and open every day are okay, but markets that only pop up once a week, month, or year are the ones you will really want to visit.
From farmer's markets to antique markets or anything else and in-between, markets are where the authentic culture and community of your destination come into play. Not only will you have a special local experience, but you might find the most precious souvenir that you have ever brought. Something that is unique, perfect for you, and has a story.
Get Social
Not sure where to start and how to find local things? Get social. Open up Instagram, Facebook, and/or Twitter and search for local events and people. Once landing at your final destination, pick up a local magazine. Check into your hotel, ask your concierge for local tips. If staying at a vacation home, ask your hosts for their favorite local activities and restaurants.
When you travel, you don't just see a place. You experience it when you find local things to do. Amp up the experiences, and you'll automatically have a much more successful vacation because it will be more memorable. It will change you, and it will be so much fun to talk about and share with your family and friends.